Publications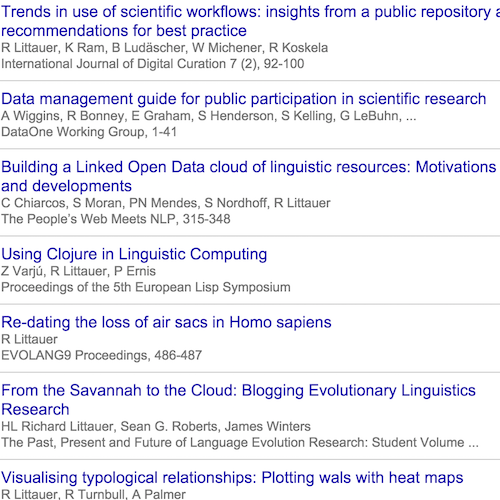 Academic Research
Researcher 2010-2015
Most of my academic publications can be found on Google Scholar. Here is a complete list.
These are preprints, so it is possible that a paper may not be on the web yet, but either was accepted or is in the process of being published at the moment. To help you cite them, I've added a bibtex file, and the slides from presentations, for each - here is all of the bibtex information, at once, if you're really keen.
As well as the below, I occasionally review articles for journals, most notably for JOSS, SIGUL, and CCURL.
Journal Articles
Katz, D S, Choi, S-C T, Wilkins-Diehr, N, Chue Hong, N, Venters, C C, Howison, J, Seinstra, F, Jones, M, Cranston, K A, Clune, T L, de Val-Borro, M and Littauer, R (2016). Report on the Second Workshop on Sustainable Software for Science: Practice and Experiences (WSSSPE2). In: Journal of Open Research Software, 4: e7. DOI: http://dx.doi.org/10.5334/jors.85. bib
Richard Littauer (2012). Replicating Oliphant's Saussurean Simulations. In: Canning, J., ed., Début: The Undergraduate Journal of Languages, Linguistics, and Area Studies, 3(1). Online: LLAS. bib
Richard Littauer, Karthik Ram, Bertram Ludäscher, Bill Michener, Rebecca Koskela (2012). Trends in use of scientific workflows: Insights from a public repository and guidelines for best practices. In: International Journal of Data Curation, Vol. 7:2, pp. 92-100. doi:10.2218/ijdc.v7i2.232 bib slides
Book Chapters
Book Reviews
Richard Littauer (2013). Review of F. Seifart, G. Haig, N. Himmelmann, D. Jung, A. Margetts, & P. Trilsbeek, eds., Potentials of Language Documentation: Methods, Analyses, and Utilization. In: Language Documentation & Conservation Special Publication No. 3. Online: University of Hawai'i Press. In: LINGUIST List, 24.2604. URL bib
Peer-reviewed Proceedings
Posters
An incomplete list.
Book Contributions
I have contributed to these publications, and am listed as a contributor:
Other contributions
I also frequently facilitate discussions. Some of those are listed here: